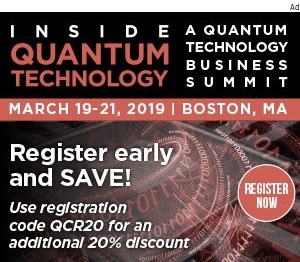 Andrew White from the quantum technology laboratory at the University of Queensland, Australia, maintains an excellent web page listing conferences related to quantum technology around the world. You can find his most recent listing for 2019 conferences here.
In addition to the conferences shown on the list mentioned above, here are some additional conferences:

The European Quantum Technologies Conference (EQTC) 2019 will be held in Grenoble, France from February 18th – 22nd, 2019. More details on the conference will be posted at their website here.

The Caltech Entrepreneurs Forum will be hosting a seminar on "Quantum Computing: From Physics Lab to Applications" on February 23, 2019 in Pasadena, California. The program will include a panel of researchers, industry experts and entrepreneurs who will address questions such as "what kind of applications will drive quantum computing's growth" and others ranging from "what is quantum computing" to "how can we profit from it"?

IBM will be hosting Q Camp '19 from February 26 – March 1, 2019. It will start with a one day conference with talks and training sessions with the Qiskit core team, including a visit to the lab to see IBM's quantum computers and then IBM will take the group to the Mountain Top Resort in Killington, Vermont for a 24-hour hackathon, awards, after-party and winter snow activities. Participation is by invitation only and students, researchers, educators, and developers are encouraged to apply. For more details you can check out the Q Camp web page here.

A conference on Coherent Network Computing will be held in Atsugi, Japan from March 18-20, 2019. The conference will cover fundamental principles, algorithms and applications, as well as physical implementation of novel computing machines based on coherent dynamics in the network of lasers or parametric oscillators. These are being actively studied for use in processing heuristic algorithms for NP-hard optimization problems and quantum simulators for many body systems.

The Future of Quantum Computing, Quantum Cryptography, and Quantum Sensors summit will be held on March 19-21, 2019 in Boston, Massachusetts. The summit will offer comprehensive insights into the commercial future of all areas of quantum technology presenting the opportunities available today and future applications in business and government. It will have over 30 expert speakers from the commercial, end-user, start-up, governmental and academic organizations. Attendees will learn about the latest quantum technology opportunities in areas such as financial services, pharma and specialty chemical, healthcare, automotive and transportation, defense, government and R&D.

First International Workshop on Quantum Technology and Optimization Problems (QTOP'19) will be held in Munich, Germany on March 18-21, 2019. This workshop will explore the opportunities for the application of quantum technology and optimization problems in networked systems and will connect people from academia and industry to discuss about theory, technology and applications in order to exchange ideas in the areas of quantum technology and optimization problems in networked systems.

Quantum Information and Measurement (QIM) V: Quantum Technologies sponsored by The Optical Society (OSA) will be held on April 4-6, 2019 in Rome, Italy. The conference topics will cover the latest in theoretical developments and experimental implementations of quantum information technology, including the advanced engineering needed to realize such technologies. In addition to the conference's traditional focus on quantum optics and photonics, the fifth QIM conference will also include other platforms for quantum technologies, broadly construed, including topics such as solid state systems (superconductors, semi-conductors), atoms and ions (including gravity gradiometers and gyroscopes, and computing and simulation engines).